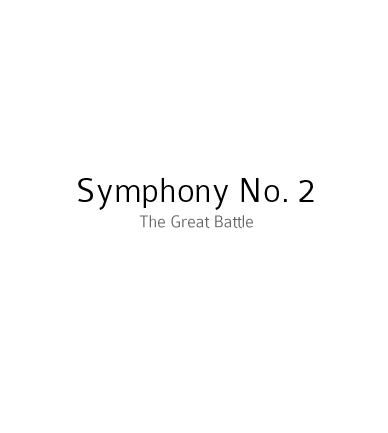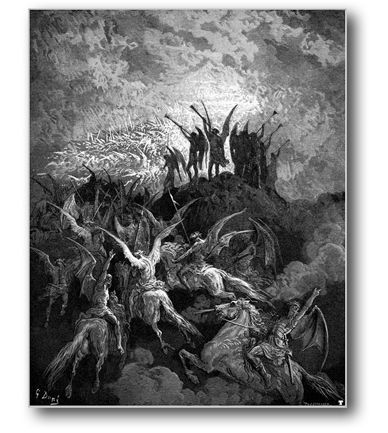 Symphony No. 2
is a spectacle of epic proportions. This piece represents the fight of an unnamed hero, a fight with death, a battle with demons. Like the fight of Archangel Michael with Lucifer, it is a struggle for supremacy against total and utter evil and diabolic fury. Isaac's ear for melody and melodic invention takes a catchy but serious theme, then juxtaposes it with wild chords, sequences of notes, and driving harmonies. Although the power of the language can be dissonant, it is always functional, building and releasing tension.
It is a battle to the finish, with a tremendous sound and variety. Militaristic rumblings in the celli, bass, and timpani; sudden brass swells; intense and surprising tutti chords. These are some of the moments that make the piece thrilling and powerful.
Time: 24'30"


I. The symphony begins with quick pattern in the strings that build to magical chords. Then there is a calm thematic statement, heroic but heavenly before the storm. A growing rhythm in the snares and celli is interrupted by interjections from the other strings. Orchestration includes bright colors of the instruments, like the xylophone, piano, and harp, which often give way to the darker registers and timbres of the orchestra, including the bass drum, which can be low and savage.
The movement is an immense conflict as the two themes battle for supremacy. Often, the primary theme will jump from instrument to instrument. It runs rampant trying to assert itself. The movement ends with dark and troubled chords.
II. The scherzo movement begins and ends with a bang. It is a fight for survival. A fast rhythmic, motoric ostinato provides the pure kinetic force of the movement. At times the whole orchestra rumbles in a hurried, but hushed, pianissimo, like a hungry monster, waiting to be unleashed. Just when the movement seems to be coming to a close, the magical chords from the first movement return, and the themes make another attempt to finish the business of the first movement in a stirring series of events and sequences of notes.
III. The strings sound a plaintive melody. Then, a funereal trumpet rhythm from a backstage trumpet is accompanied by a nail-in-the-coffin rhythm in the timpani. A foreign, other-worldly melody in an ancient mode repeats and repeats until the whole orchestra resounds the symphony's opening chords. A moment of victory. An inspired unison.
Later, the movement ends as chords swell in the strings; then the chords fade out. An unexpected, but intuitive, ending to a powerful and kinetic symphony.

The 2nd movement can be used as a standalone work.

This piece is for full orchestra: woodwinds in threes, including piccolo, English horn, bass clarinet, clarinet in E-flat, and contrabassoon; the brass section is 4, 4, 4, 2; the percussion section includes timpani and three percussionists playing Wind Chimes, Sizzle Cymbal, Pair of Cymbals, Suspended Cymbal (Large, Medium), Tam-tam, Slapstick, Tambourine, Snare Drum, 3 Tom-toms (Low, Medium, High), Bass Drum, Glockenspiel, Tubular Bells, Xylophone; harp; piano; and strings. Other arrangements are available upon request.

The piece is of a modern style, and so may be programmed with contemporary works, or, with it's traditional use of form, may be used as a contrast to classical or romantic symphonic repertoire. Symphony No. 2 would work best as an opener or to end the first half. With it's morendo ending, it is not as well suited to end a concert.

| | | |
| --- | --- | --- |
| View Mvt. 1 | View Mvt. 2 | View Mvt. 3 |
| | | |
| | | |
Listen to excerpt from
Symphony No. 2.

Contact us for the complete score or try out Symphony No. 2 in a rehearsal.
We will provide the parts at no cost to you. Rental or purchase fees will apply, only if you decide to perform the music in concert.
Contact David Isaac by email: info@davidimusic.com or by phone 562-285-7608.